Welcome to the ultimate buying guide for stylish boots for girls in India! If you're a fashion-forward girl looking to step up your style game, then you've come to the right place. Boots are an essential footwear for any wardrobe, not only for their functionality but also for their ability to add a touch of style to any outfit. In this article, we will discuss everything you need to know about buying fashionable and practical boots in India.
The Importance of Boots in Enhancing Your Style Game
Boots have been a staple in fashion for centuries and have continued to evolve in terms of style, materials, and designs. They not only protect your feet from the elements but also add a touch of sophistication and edginess to your outfit. A well-made pair of boots can instantly elevate your fashion statement and create a bold and confident look. That's why it is crucial to have the right pair of boots in your collection.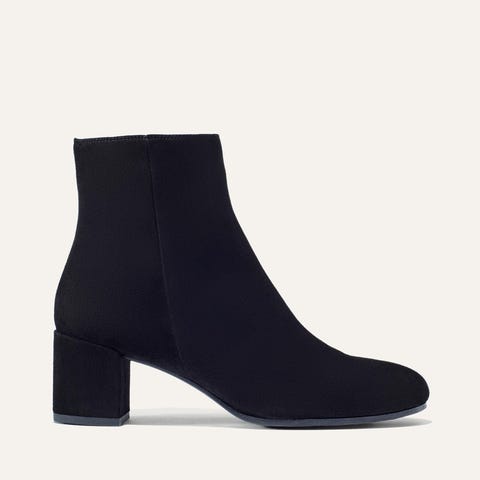 Popular Types of Boots for Girls
When it comes to boots, there are various styles to choose from, each with its own unique features and purposes. Here are some popular types of boots that you should consider when making your purchase:
An Overview of Different Types of Boots Available in the Market
– Ankle boots: As the name suggests, these boots end at your ankles and are perfect for everyday wear.
– Knee-high boots: These boots cover your entire lower leg and provide warmth and protection during colder months.
– Thigh-high boots: These boots go above the knee and are known for their dramatic and sexy look.
– Combat boots: With a rugged and sturdy design, these boots are perfect for outdoor activities and add an edgy vibe to your outfit.
– Chelsea boots: These ankle-length boots have an elastic panel on the sides, making them easy to slip on and off.
– Western boots: Featuring a pointed toe and intricate designs, these boots are perfect for adding a western touch to your style.
Choosing the Right Boot Material
The material of your boots plays a significant role in their comfort, durability, and appearance. Here are some common materials used in boot-making and factors to consider when selecting the right one for you:
Discussing Various Materials Commonly Used in Boot Making
– Leather: Known for its durability and versatility, leather is a popular choice for boots. It comes in different types, such as full-grain, top-grain, and genuine leather, each with its unique characteristics.
– Suede: This material is made from the underside of animal skin and is known for its soft and luxurious feel. However, it is not as durable as leather and requires more maintenance.
– Synthetic materials: Faux leather, rubber, and neoprene are some of the synthetic materials used in boots. They are often budget-friendly and have a wide range of design options.
Factors to Consider When Selecting the Material
– Purpose: Consider the purpose of your boots and how often you will be wearing them. If you need something durable, go for leather or synthetic materials.
– Comfort: Some materials, like suede, may be softer and more comfortable to wear than others.
– Maintenance: Think about how much time and effort you are willing to put into maintaining your boots' appearance.
– Climate: If you live in a place with harsh weather conditions, opt for a material that is water-resistant and suitable for colder temperatures.
Boot Styles for Different Occasions
Boots are versatile and can be worn for various occasions, from casual outings to formal events. Here are some boot styles suitable for different occasions:
Exploring Boot Styles Suitable for Different Occasions
– Casual boots: Ankle boots, chelsea boots, and combat boots are perfect for adding a touch of style to your everyday outfit.
– Formal boots: Knee-high boots and western boots are a great choice for formal events and can be paired with dresses or skirts to create a chic look.
– Winter boots: Thigh-high boots and insulated boots are ideal for keeping your feet warm and cozy during the colder months.
– Festival boots: If you're attending a music festival or concert, go for statement boots with unique designs, patterns, or embellishments.
Boot Colors and Patterns
The color and pattern of your boots can make a significant difference in your overall style. Here are some popular choices in the fashion industry:
Discussing Popular Boot Colors and Patterns in the Fashion Industry
– Black: A classic and versatile color that goes well with any outfit.
– Brown: A warmer alternative to black, suitable for creating a more relaxed and earthy look.
– Metallic: Adds a touch of glam to your outfit and is perfect for special occasions.
– Animal prints: Bold and trendy, these prints can add a statement to your outfit.
– Floral prints: A feminine and playful choice, perfect for spring and summer.
Finding the Perfect Boot Size
Ensuring the right size and fit is crucial when buying boots. Here are some tips to help you find the perfect size:
Tips for Determining the Right Boot Size and Fit
– Measure your feet: Use a measuring tape to determine the length and width of your feet.
– Understand boot measurements: Boot measurements can vary depending on the style and brand. Familiarize yourself with the standard measurements and sizing charts to make an informed decision.
– Consider trying different sizes: If you're not sure about your size, try on different sizes to see which one feels the most comfortable.
Must-Have Features for Comfort and Durability
Comfort and durability are essential considerations when buying boots. Here are some essential features to look for:
Highlighting Essential Features for Comfort and Long-Lasting Boots
– Cushioned insoles: A padded footbed provides comfort and support for your feet.
– Sturdy soles: Look for boots with durable and slip-resistant soles for better traction.
– Water resistance: This feature is especially crucial for individuals living in areas with heavy rainfall or snow.
– Breathability: Boots made with breathable materials, such as leather or suede, will keep your feet dry and comfortable.
Budget-Friendly Boot Brands
You don't have to break the bank to buy fashionable and durable boots. There are several affordable boot brands in India that offer quality and style options. Some popular choices are:
Recommending Affordable Boot Brands in India
– Catwalk
– Forever 21
– Zara
– H&M
– Bata
– Metro Shoes
Online vs. In-Store Boot Shopping
With the rise of online shopping, it can be tempting to buy boots online. However, there are advantages and disadvantages to both online and in-store boot shopping that you should consider:
Pros and Cons of Shopping for Boots Online
– Pros: Convenience, a wider variety of options, and the ability to compare prices across brands.
– Cons: Inability to try on the boots before purchasing, potential issues with sizing and fit, and the risk of receiving a product that looks different from the images online.
Advantages and Disadvantages of Buying Boots from Physical Stores
– Pros: The ability to try on the boots before purchasing, better assistance from store employees, and the option to return or exchange the boots if necessary.
– Cons: Limited options, price may be higher compared to online shopping, and the need to travel to physical stores.
Maintenance and Care Tips for Boots
To ensure the longevity and appearance of your boots, proper maintenance is crucial. Here are some tips to help you take care of your boots:
Providing Tips to Maintain the Quality and Appearance of Boots
– Clean regularly: Use a damp cloth or brush to clean off any dirt or debris from your boots after each use.
– Condition leather and suede: Apply a conditioner specifically made for leather or suede to protect and maintain their appearance.
– Store properly: Avoid storing your boots in direct sunlight and use shoetrees or rolled-up magazines to maintain their shape.
In conclusion, boots are an essential wardrobe staple that can enhance your style game while providing functionality. By considering the factors discussed in this buying guide, you can make an informed decision when purchasing your next pair of boots. Remember to choose a style, material, and features that best suit your needs, and don't be afraid to explore different options to find your perfect match. Happy boot shopping!